With hectic schedules, demanding jobs, and endless errands all pulling for our time and attention, the last thing you want to do at the end of the day is labor in the kitchen. Getting a meal on the table doesn't need to be overwhelming or overly complicated—especially with a little help from your local IGA and one of those plump and tasty rotisserie chickens they offer up! Fully cooked and ready to eat, this secret ingredient can help make meal time delicious and easy.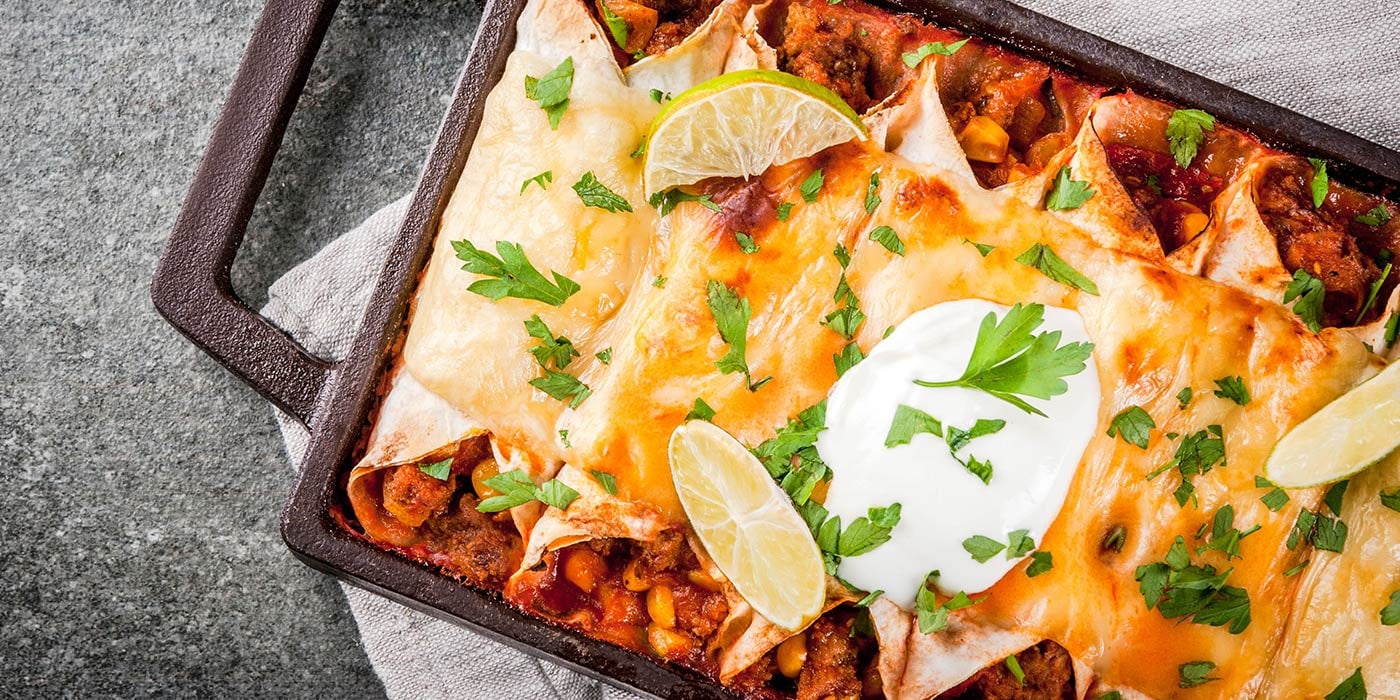 EASY CHEESY ENCHILADAS
Even the most finicky eater will love this family favorite. It's quick to assemble, cooks up in less than 30 minutes, and by offering a variety of toppings, everyone has a say with what's on their plate!
2 cups shredded chicken
1 medium onion finely chopped
¾ cup canned refried beans
1 ½ cup shredded cheese, divided
1 4.5 oz can chopped green chilies
¼ cup salsa
Salt to taste
10 corn tortillas
1 28oz can enchilada sauce
Preheat oven to 350 degrees. Wrap tortillas in foil and warm in oven while mixing filling. Combine chicken, onion, refried beans, ½ cup of cheese, and salsa. To assemble, spoon chicken mixture evenly down center of each tortilla, roll up and place seam side down in a shallow baking dish coated with pan spray. Pour sauce over filled enchiladas and top with remaining cheese. Bake 15 to 20 minutes until bubbly and heated through. Serve with your favorite toppings, such as sour cream, avocados, chopped tomato, sliced olives, fresh cilantro, or green onions. Makes 4 generous servings.


THAI INSPIRED PASTA
Using that already cooked rotisserie chicken and a short-cut creamy peanut sauce, this Thai inspired pasta is a delicious and satisfying mid-week meal. The crisp vegetables deliver color and crunch your palate will enjoy. Start to finish, you can have this on the table in 30 minutes!
8 ounces pasta such as fettucine or linguine
Peanut sauce
1 ½ cups jarred picante sauce
¼ cup peanut butter (smooth or crunchy)
2 tablespoons honey
3 tablespoon orange juice
1 tablespoon soy sauce
1 teaspoon fresh grated ginger
Salt to taste
2 cups shredded chicken
½ red pepper thinly sliced
½ green pepper thinly sliced
1 carrot peeled and cut into matchstick size pieces
¼ cup chopped peanuts
Fresh cilantro
Prepare 8 ounces of fettuccine or linguine according to package directions. While pasta is cooking, make peanut sauce and prep other ingredients. To make peanut sauce, combine picante sauce, peanut butter, honey, orange juice, soy sauce, and grated fresh ginger in a saucepan and stir over low heat until smooth and heated through, keep warm, stirring occasionally. Shred chicken and set aside in a large bowl. Stem and seed peppers and cut into thin strips. Peel carrot and cut into matchstick size pieces. Stir ¼ of a cup of peanut sauce into the shredded chicken. To serve, drain pasta and gently toss with chicken mixture, vegetables, and remaining peanut sauce. Top with chopped peanuts, garnish with fresh cilantro. Serves 4.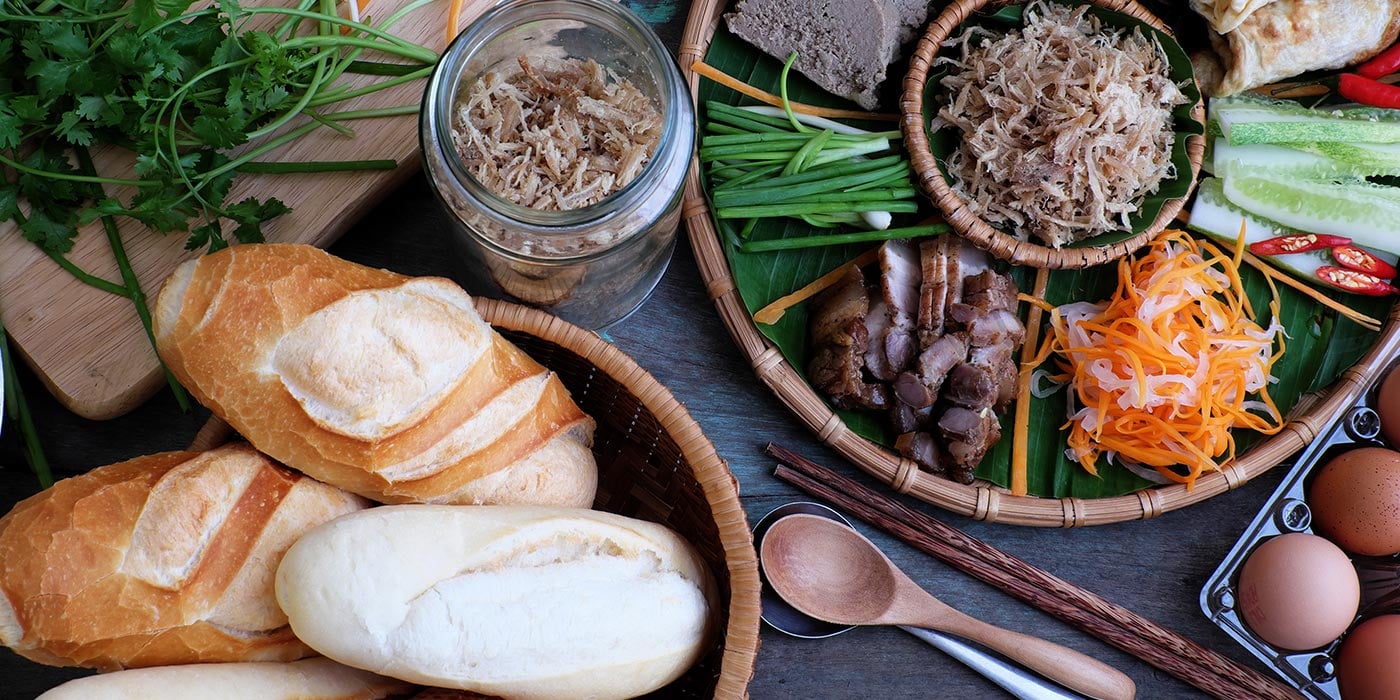 BANH MI SANDWICHES
Banh mi sandwiches with pickled vegetables and spicy accompaniments are all the rage. Once you try one, you'll understand why this fiery-flavored Vietnamese street fare is so popular, and with the help of your humble rotisserie chicken, you can have these sandwiches on the table in no time.
Note: this recipe calls for a daikon radish. Popular in Asian cooking, they look a lot like a parsnip or a thick white carrot and have a mild peppery taste. If you can't find them in the produce department, you can easily substitute with 3 red radishes.
1 large shredded carrot
1 shredded daikon radish (alternative: 3 red radishes)
2 tablespoons apple cider vinegar
1 tablespoon sugar
Salt to taste
1 large, soft baguette, cut into four sandwich-size portions
½ cup mayonnaise
2 tablespoon Sriracha sauce
1 small cucumber thinly sliced
1 seeded and thinly sliced jalapeno pepper
Cilantro sprigs
2 cups shredded chicken
Soy sauce
Combine first 5 ingredients, cover and let the vegetables "pickle" for 15 to 30 minutes while you prep the other ingredients. Cut a soft baguette into 4 sandwich size portions, wrap in foil and heat in a warm oven. In a small dish, mix mayonnaise with Sriracha sauce, adjust the "heat" by adding more or less Sriracha depending on taste. Heat shredded chicken by warming in a skillet on stove top, toss with a splash of soy sauce. Drain pickled vegetables.
To assemble: slice baguette horizontally, but not all the way through, then pull out a bit of the bread to make a well down the center of one side. Spread mayonnaise mixture generously on both sides of baguette, fill well with chicken then top with pickled vegetables, thinly sliced cucumber, and jalapeno. Add sprigs of fresh cilantro. Yum! Makes 4 sandwiches. Serve any remaining pickled vegetables and cucumber along side as an accompaniment.


I hope these convenient shortcuts will inspire you to step into the kitchen and look at meal time as a chance to get creative and experiment with new foods, flavors, and simplify your old favorites. Take advantage of the many versatile products your local IGA has to offer to speed up the meal making process, but most importantly, enjoy the meal you made and the people you share it with!
Better Choices Pro Tip!
Remove the skin from the chicken before shredding, and use reduced-fat sharp cheddar cheese to cut down on calories and fat.

About the Author
Tammy Tracy has been experimenting, studying, and practicing the art of cooking for over 30 years, with a career that includes professional catering, food journalism, and even a dash of food television. Tammy—who as the daughter of an IGA retailer grew up surrounded by family, friends and food—finds her inspiration in simple and fun meals that everyone from busy professionals to time-scarce families can prepare and enjoy.